Actually Khmer Unicode does not need to be installed on Windows 7.  Without making any changes any text you view in Khmer will appear, but will be mostly unreadable because of its small size.
Here is a sample of what Khmer Unicode looks like in Windows 7 when you look on a website (in this case sbbic.org) before any changes are made: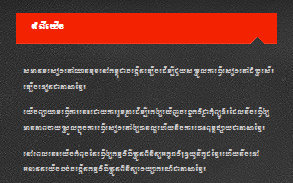 Also, title bars are difficult to read: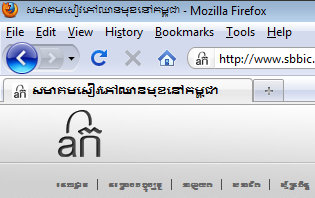 So how do we make it so that Windows 7 will display Khmer Unicode correctly and allow you to type in Khmer?
First, download this collection of Khmer Unicode fonts (we collected some of the main Khmer Unicode fonts available  into one .zip file for easy download). 
Download "All Khmer Unicode Fonts"

All-Khmer-Fonts-9-26-15.zip – Downloaded 250791 times – 29.00 MB
After you download them, extract the files to a folder and then select all the fonts and then right click and choose "Install" (pictured below):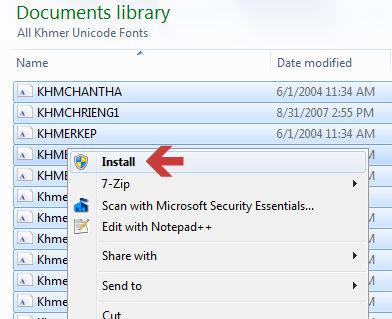 Once all the fonts are installed download the SBBIC Khmer Unicode Keyboard so that you will be able to type in Khmer.  Our keyboard is based on the Khmer OS keyboard with a few slight modifications.  It will work with both 32-bit and 64-bit systems.  Download the SBBIC Khmer Unicode Keyboard here.
Download "SBBIC Keyboard 64-bit and 32-bit Windows Installer"

SBBIC-Khmer-Keyboard-1.0.zip – Downloaded 56239 times – 467.23 KB
After downloading, extract the .zip file and double-click on setup: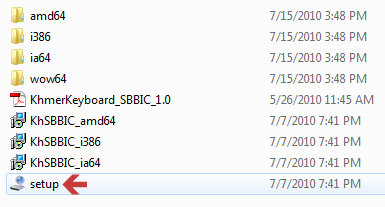 You will also find the SBBIC Khmer Keyboard Layout in the "KhmerKeyboard_SBBIC_1.0.pdf file that you can use for reference when learning to type in Khmer Unicode.
Now that you have installed many of the most used Khmer Unicode fonts and a keyboard, you will find that many websites (such as sbbic.org) will display in Khmer correctly.  But title bars are still difficult to read.
In order to change the Khmer font used in title bars you will need to make some changes to the Windows registry.  Please make a backup of your registry before attempting to make any changes (to backup your registry click the start menu and type "regedit"  The Windows registry editor will appear, then click the file menu and click "Export" and export your registry to a safe location).
You can download this zip file (from nokorsoft.com) that includes the file "fixWindows7.reg" which will make the changes for you or you can manually make the changes.  If you download the zip file extract its contents and double-click the file baned "fixWindows7" and accept the changes to your registry.  Or you can make the following changes yourself:
[HKEY_LOCAL_MACHINESOFTWAREMicrosoftWindows NTCurrentVersionFonts] "Daunpenh (TrueType)"=-
"Khmer UI (TrueType)"=-
"Khmer UI Bold (TrueType)"=-
[HKEY_LOCAL_MACHINESOFTWAREMicrosoftWindows NTCurrentVersionFontSubstitutes] "DaunPenh"="Khmer OS System"
"Khmer UI"="Khmer OS System"
"Khmer UI Bold"="Khmer OS System"
Now restart your computer and everything should be running smoothly!  Now websites in Khmer should display perfectly as this screenshot: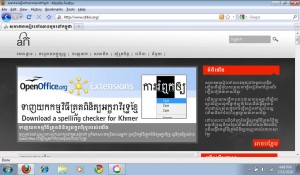 Next, install the Khmer Spelling Checker and also try out the new Khmer Grammar Checker!